Patrick Lee E-mail Patrick Lee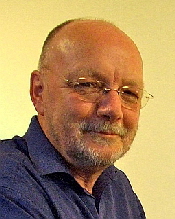 Patrick is prolific composer with a particular interest in choral music. He is offering the opportunity for a choir to perform a complete or even a small movement from his works.
He has written a secular oratorio-type work for soloist, chorus and orchestra. It's called "Sacrifices" and it's designed to be performed for and to focus peoples' attention on the forthcoming centenary of the outbreak of World War 1. The libretto utilises well-known poems by the so-called War Poets.
Click here to read (right-click to download) the pdf of the background to this work as well as the full libretto. There is a copy of the vocal parts with piano accompaniment (only to be used in rehearsal as it's an approximate transcription of the orchestral score) available on the Score Exchange
www.scoreexchange.com/scores/119290.html
The MP3 sound sample which is also available on the same page is a virtual performance of the full score by Sibelius software
Patrick Hawes achieved number 3 in the Classical Charts with his Highgrove Suite. Read about his Song of Songs collection of six pieces for voices and strings. This was Classic FM's April 2009 CD of the Week.
Malcolm Archer composes wonderfully melodious music to sing. He is particularly well-known for his church music and involvement with the Royal School of Church Music.
Alexander Campkin. The BBC Singers directed by David Hill are to performed one of his Christmas Carols on BBC Radio 3.
James Weeks' new composition was be performed by Orlando Chamber Choir. "Orlando Tenebrae (2010)" revisits from a modern secular standpoint the Tenebrae liturgy which marks Jesus' suffering before the symbolic rebirth of Spring.
Anne Braley. Contralto/mezzo-soprano www.annebraley.co.uk
"I'm a mezzo/contralto soloist who loves to work as a soloist with choral societies. My USP as a soloist seems to be where people want a real traditional contralto sound although that's not the limit of my range.
I sing 19th/20th Century music like Mendelssohn, Dvorak, Rossini, Elgar etc.
I love singing Bach and Handel where I might be preferred to a counter-tenor.
Go to my web-site to read details and to hear clips. Contact me by 'phone
01633 221268 and 07852 851056 or
e-mail Anne Braley
_______________________________________________________ _
Kathleen Linton-Ford. Mezzo-Soprano
www.kathleen-lintonford.com
Kathleen Linton-Ford studied at Oxford University and Trinity College of Music, with additional study on the ENO 'Knack', and Birkbeck College's Opera Performance course.
She has sung the solos in the Verdi Requiem (with orchestra), the Mozart Requiem(with organ), the Fauré Requiem (with orchestra), Handel's Messiah (with piano), Vivaldi's Gloria (with chamber group), Bach's St John Passion (with organ) and Mendelssohn's Midsummer Night's Dream (with orchestra). Operatic roles include Emilia (Otello), Hata (The Bartered Bride), Meg Page (Falstaff), Eleonora (Prima la Musica), Susanna (Le nozze di Figaro), Laila (Les Pecheurs de Perles), Mercedes (Carmen), Giannetta (L'Elisir d'Amore), Third Lady (Die Zauberflote) and Katisha (Mikado).
Forthcoming performances include Mozart's Requiem at St John's Waterloo, and Donna Elvira in Don Giovanni with Project: Opera.
Kathleen is committed to artistic outreach. She is an artist with Music in Hospitals, Love 4 Life Musical Services and Vital Arts. As an experienced choral singer she sings with several professional choirs and vocal ensembles.
_______________________________________________________ _
Katie Cochrane - soprano www.katiecochrane.com
Katie is an Oxford based singer, available for concerts, events (including weddings, parties, funerals, etc.) and singing tuition. After graduating in 2011 with a first class degree in Music from the University of Oxford, she is now working towards auditioning for postgraduate study at music college and studying singing with Fiona Dobie in Oxford.
Katie has given recitals in Exeter College Chapel as part of the Turl Street Arts Festival, New College Chapel (New Chamber Opera recital series), Oxford Brookes School of Arts, St Michael's in the Northgate and the Lit and Phil, Newcastle upon Tyne. More recently she has sung with the Green Templeton Proms, and in last year's 2013 Oxford Lieder Festival sang solo lied in the Oxford Lieder Festival chorus concert as well as songs in Oxford public spaces with 'Oxford Lieder goes to town'.
On the stage, Katie has appeared as 'Phylllis' in Gilbert and Sullivan's Iolanthe with Kidlington Amateur Operatic Society, in opera scenes as 'Sister Constance' from Poulenc's 'Dialogues des Carmelites' at the Oxenfoord International Summer School, as the 'Sorceress' in Purcell's 'Dido and Anaeas' with Oxford Brookes Opera Society, and in the two to a part chorus of Handel's 'Acis and Galatea' with St Peter's College Music Society. She has also sung the solo part of 'Santuzza' in a concert performance of Masagacni's 'Easter Hymn' from 'Cavalleria Rusticana' with Oxford Brookes University Choir.
Katie currently sings with all-female vocal consort Iridiana, and future appearances in 2014 include an 'Opera and Tea' event with Oxford Brookes Opera Society, and recitals at New College and St Michael's in the Northgate. In addition to lessons with Fiona, Katie has also had masterclasses with Malcolm Martineau, Susanna Stranders, Robin Bowman and Emma Kirkby.
Katie Cochrane
_______________________________________________________ _
Pablo Strong - Tenor pablo-strong@me.com
Pablo is currently taking part on the 2013-2014 ENO Opera Works Course. He studied at the Royal Academy of Music in London (2011-2013) and read Music at St John's College, Cambridge (2007–10), where he was also a Choral scholar and then a Lay Clerk (2010–11).
As a treble soloist (2001-2003), Pablo performed 'Miles' in Britten's The Turn of the Screw in the Festival d'Aix-en-Provence, Vienna, Edinburgh Festival and then in Athens and Geneva. Pablo made his film debut in the title role in Amahl and the Night Visitors (Menotti) broadcast by the BBC on Christmas Eve 2002.
Pablo's recent solo appearances include: The Role of Colonel Fairfax in The Yeomen Of The Guard By Gilbert and Sullivan at Buxton Opera House, Misa Criolla (Ramirez), Britten Folk Songs, Handel's and Purcell's Ode on St. Cecilia's day in Oxford under John Lubbock, finalist, Somerset Song Prize 2013, masterclasses with Simon Keenlyside (London Song Festival), and Dennis O'Neill at RAM, opera excerpts including Phillipe in Lennox Berkeley's A Dinner Engagement, Don Ottavio in Don Giovanni, Ulisse in Monteverdi's Il Ritorno d'Ulisse in Patria. Mozart Missa Brevis in D (Girton College), Britten Nocturne (Wren Library, Trinity College), Britten Turn of the Screw Prologue (Cambridge University Operatic Society), Britten Canticles I & II (Jesus College Chapel), Vivaldi Magnificat (West Road Concert Hall). Solo singing in Chandos CD recordings with St John's College choir includes: Lassus Resonet in Laudibus, Magnificat (2011), Franck Panis Angelicus (2010), Howells Sequence for St Michael (2010).
Pablo currently learns with Gary Coward.
_______________________________________________________ _
Nicola Hooke - Coloratura Soprano nicolahookesoprano.org
Nicola is an experienced coloratura soprano with a broad repertoire. Having studied flute at Trinity College of Music, she went on to study singing with Norman Welsby. She is equally at home in the concert hall as an oratorio soloist with orchestra, in more intimate settings for small recitals, or singing for weddings, funerals and private functions. She has a wide knowledge and experience of choral society repertoire, both as a choral singer and as a soloist. She is also building up an operatic repertoire, having sung roles in 'Hansel and Gretel' (Humperdinck) and 'Dido and Aeneas' (Purcell), and has recently played the demanding role of 'Elle' in Poulenc's 'La Voix Humaine'.
_______________________________________________________ _
Gillian Rae-Walker - Soprano www.gillianraewalker.com
Gillian Rae-Walker has performed both in the UK and abroad, particularly in Germany. She is a versatile soprano, whose range and beauty of tone, particularly in the high range, make her suitable for dramatic coloratura repertoire as well as standard soprano repertoire. An experienced opera, oratorio and concert soloist, she has appeared at festivals such as the Ludwigsburg International Festival and the Festival Europäische Kirchenmusik. She is a guest soloist with orchestras including the Chamber Ensemble of London (led by Peter Fisher), the York Symphony Orchestra and the Stuttgart Opera Orchestra. She has also worked with a number of opera companies including Opera East and been a soloist for a large number of choral societies from Aberdeen to the Isle of Wight. Venues include theatres throughout the UK, St. Martin-in-the-Fields, St. James', Piccadilly, Huddersfield Town Hall, the Music Hall, Aberdeen, Malvern Theatres and Exeter Cathedral. Particular favourites in her repertoire are Verdi's Requiem and Strauss' Four Lasts Songs.
Gillian very much enjoys working with choral societies and orchestras and is able to negotiate a fee to suit the budget. Please look at her web-site for reviews, sound-clips, repertoire and other details.